It's another Fab Friday!
I'm joining Laura at The Everyday Joys for Fab Friday!
Please join in by sharing what's fab in your world lately!
Here are some things that have been FAB in my week:
Ahh, slowly, life is returning to normal. I told stress to get the heck out of my life and kicked it to the curb. (Ahhh, if it were only that easy! But really, things are getting back to normal again.)
The yearbook advisor at the high school asked Maya if she thought I would get together pictures of the kids in her class "through the years" for the senior pages in the yearbook. Uhhh, heck yeah! We live in a small community so she knows that I've been at all the school activities and taken pictures along the way. Once I went digital in 2003, everything is perfectly organized. It's all those paper copies; some are in scrapbooks, some are in envelopes, some are in photo boxes. It's a jumbled mess. I'm really, really excited about my weekend project! Sorting through and organizing all of our pictures is something on my 36 in 365 list anyway! Which by the way, is coming along quite nicely!
My back really, FINALLY feels good again! And I actually worked out for the first time in weeks! I did the No Nonsense Circuit workout I found on Pinterest. After weeks of not working out, my quads and my gluteus maximus are feelin' it! Ouch. But it's a good ouch, ya know?
I realized that I haven't burned my Scentsy warmers in a long while. I've got a couple different ones going in different parts of the house and it smells divine! And yes, I know Silver Bells is a Christmas scent. I wanted a little Christmastime today. It's ok to break the rules. ;)
As ya'll know, yesterday was Valentine's Day. Todd and I saw a commercial last week where a man said said,

(I'm parphrasing here)

"If you don't bring your wife a big box of chocolate, you're in trouble!" I told him, "IF you bring your wife a big box of chocolate, you're in trouble." haha Do you know what he brought me? A single, Reese's Peanut Butter Cup. Just one. It was perfect. And so thoughtful of him. Not only did he bring me my favorite candy, he gave it to me with built in portion control. Smart man. And what a sweetie.♥
My Illini won again this week! I-L-L ... I-N-I! Go Illini go! Have I mentioned I love basketball? No? Well, my team is on a roll. Woohoo!
Several people have jumped in for the no soda challenge that I posted yesterday! I'm so excited for you guys! Good luck! I'll be sending you messages later today! Good luck!
___________________________________________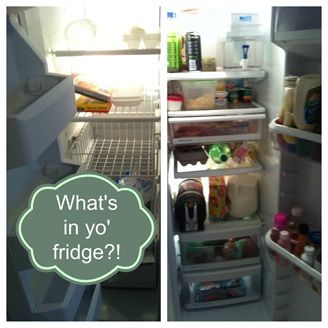 I'm running late getting to my blog this morning and while I fully intended to do a quick tidying of my fridge, I didn't. So I will spare you the pics of Rubbermaid containers filled with leftovers. Todd and I eat lunch at home every day so I always cook extra portions with dinner meals so we have leftovers to warm up. That takes a lot of space in ol' fridge.
Unlike Holly, I am NOT a minimalist with food storage. I buy a lot of the same things over and over and I like to have plenty of it. Instead of pics, I'll list some of the staples we keep stocked. I do a big grocery shopping trip about every 7-10 days. Some of the stuff listed I do not usually eat, but I buy it for Todd and the kids (for example chips and Poptarts)
In the fridge:
I have the same Brita dispenser shown in Holly's fridge. That baby gets filled every day.
Milk: 2% and skim.

Todd and the kids go through 3 gallons of 2% milk every week. I go through about a quart of skim since I only use it for smoothies and in recipes.

Ham and turkey
Eggs; I always keep eggs to use for breakfast and I boil a dozen every couple weeks

(Note: I don't keep them in the fridge for 2 weeks. We don't ALWAYS have boiled eggs in the fridge, just a few times a month.)

Carrots
Celery
Spaghetti squash
Cucumber
Green beans
Hearts of romain lettuce
Bananas
A couple oranges
A couple apples
Berries (strawberries and raspberries are the most common)
1 or 2 pomegranates
Greek yogurt; I usually buy 12 a week
String cheese
American cheese slices
Shredded cheese;

both mozzarella and some sort of cheddar

Laughing Cow Light Queso Fresco and Chipotle;

Lately I like to mix it with refried beans and make "chips" out of wonton wrappers

Wonton wrappers
Cream Cheese-1/3 less fat
Light sour cream
Coffee creamer and fat free half and half
Butter (tub, stick and spray. We don't mess around.)
Condiments we always have: ketchup, mustard, BBQ sauce, ranch dressing and my fave dressing, light balsamic
I buy a pack of Vitamin Water Zero and Powerade Zero every week and every couple of weeks La Croix water
Again, unlike Holly, we have meat. Lots of it. It's very rare for dinner to not be centered around the MEAT. This is what you can find in our freezer:
ALWAYS Boneless, skinless chicken breast
ALWAYS Lean ground beef
A couple times a month I use a lean beef roast or lean stew meat
We have chicken sausage and turkey sausage a couple times a month
Bacon.

My family eats a lot of bacon. I usually skip it or have turkey bacon, but sometimes when I'm cooking it for them I just can't resist a slice. Bacon is so good!

Pork sausage.

I couldn't tell you the last time I ate it, but it's something that Todd and the kids have for breakfast every weekend (with pancakes or french toast. And bacon.<--- I told ya, they love their bacon.).

Strawberries.

I use them in smoothies or even defrost a bowl and eat them as a snack.

I have some Vitamuffins but I kinda burned out on them and they've been in there awhile. Probably freezer burnt by now.
A bag of frozen peas to use as an ice pack. ;)
I always keep a couple Lean Cuisines, tv dinners and a frozen pizza for back ups.

Yes, they are processed. But they are convenient. And sometimes low calorie convenience trumps my desire to prepare a meal with fresh ingredients. I can not be June Cleaver all the time. (Kidding! I am rarely June Cleaver. It's a toss up from day to day if I'm going to be June Cleaver or Peggy Bundy. There is no in between. A lesson my husband has learned: You get what you get and you don't throw a fit.)

Cookie dough.

You know those tubs the kids sell for fundraisers at school? Todd keeps buying them and I never bake them. Ugh, they are not good. I wish he'd stop because having 4 tubs of cookie dough in your freezer that no one will ever eat seems ridiculous to me. I'm just sayin'.
I'll go ahead and throw in the pantry staples, just for fun:
Bread
A box or bag of Ronzoni Smart Taste pasta
Spaghetti
Jar of marinara sauce
Refried beans
Protein bars for me
Granola bars and Special K bars for everyone else
Pop tarts
Popcorn kernels
Chicken broth
Beef broth
Tortilla chips (Todd), BBQ chips (Maya), Doritos (Evan)
A few different kinds of cereal
___________________________________________